As yesterday's defenders of freedom, we want to welcome today's military service members into our ranks to become part of our elite group. Our common bond is the battlefield, whether it is service in the Persian Gulf, Korea, Kosovo, the war on terrorism or peace-keeping expeditionary campaigns. Your courage and sacrifice have made a difference in preserving and defending world peace.
The Veteran's Cove North East Entrance
A place where we gather as comrades. One of our common bonds is sharing stories of our military service with family and friends. Join us at the Veteran's Cove and check us out on
FaceBook!!
Monday - Friday 3:00 PM - 10:00 PM
Saturday 12:00 PM - 10:00 PM
Sunday 12:00 PM - 8:00 PM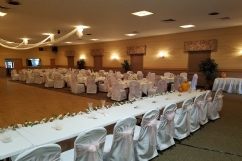 VFW 7573 Banquet Hall
We host a wide variety of events including weddings, bridal showers, baby showers, family reunions, banquets, fundraisers, community service, and much more (
check availability
).
To make a reservation call (586) 746-6242. You can also check us out on
FaceBook
!
The Veterans of Foreign Wars